Ground Penetrating Radar
Concrete Imaging and Utility Locating
The latest service now offered by All Trades Contracting came out of need by our concrete cutting division. During the cutting and coring operation, we often encountered many hazards and obstacles buried within concrete. We always seemed to be working blind. After months of research, we came up with the solution: GPR or Ground Penetrating Radar. We now offer the same service to others who have encountered similar problems when cutting, coring, jack hammering and demolishing concrete and ashphalt. Our service will also be valuable in planning any renovations or re-construction projects.
As of January 1st 2008, our staff is fully trained and certified to do Concrete Investigations and Underground Utilities Locates. We offer live plotting and marking as well as 3D imaging. A drill locator is also available. No more drilling through important targets, just mark and drill.
No more worries when cutting into concrete. No hitting water lines and electrical cables. Other hazards such as rebar and post-tension cables are easily located also.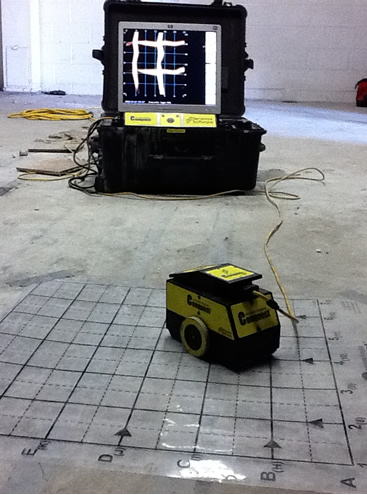 Ground penetrating radar used to locate electrical and rebar targets in concrete.
Ground penetrating radar is used to locate underground targets for new construction.
Other uses for the equipment include locating weakened concrete, rebar placement, thickness, as well as locating other targets buried in the concrete.
Before starting or planning your next project, know what's in the concrete and where. Call Reg for more information or a demonstration at 807-626-2220.
CALL BEFORE YOU CUT, CORE, DRILL, OR DIG.
---



All Trades Contracting is a member of the Concrete Sawing and Drilling Association, the Construction Association of Thunder Bay, and the Thunder Bay Chamber of Commerce.