Concrete Cutting - Wire Saw, Chain Saw, Flat Saw
All Trades Contracting employs the a multitude of concrete cutting machines to get the job done right the first time. Our workers are knowledgeable and efficient and our concrete cutting saws and machinery are the best in the industry.
Wiresawing
Using a diamond wire is the best way to saw through large thick walls and other large concrete constructions such as foundations and bridges. Our top-of-the-line diamond wire saw is uniquely designed to be powerful and flexible for any of job, big or small. We can cut deeply in confined spaces, precisely in complex structures, both in steel and heavily reinforced concrete.
Wire Sawing a 9 foot diameter concrete pipe with a 4 hour timeline at the Thunder Bay Waste Water Treatment Plant. Two saws were used in order to make the deadline.
From setup to final removal and discard, we offer it all.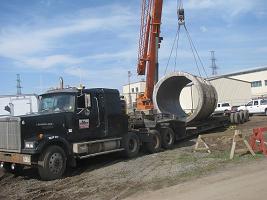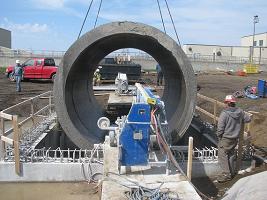 The remote control saves on operator fatigue and provides safer operation. Here, we are removing the 35 ton concrete section with the 120 ton crane.
As part of our concrete services, we offer concrete cutting and removal. Our new state-of-the-art equipment can cut through concreteblock, as well as poured and pre-stressed concrete walls and floors. The equipment is powered by a remote hydraulic pump which totally reduces exhaust and noise concerns associated with other systems.
Wiresawing bridge abutment at Jackfish River.
Wiresawing through 1 1/4" rebar on a bridge abutment.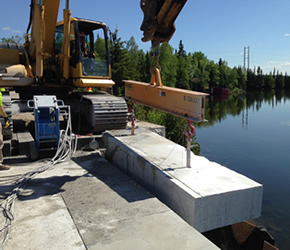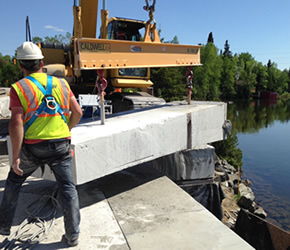 Wiresaw cutting a bridge deck.
| | |
| --- | --- |
| Wiresaw cutting a concrete bridge abutment. | |
Chain Sawing and Flat Sawing
The saw blade is lubricated by running water that is easily cleaned up by a helper as the operator continues to cut. The water also eliminates the need for special dust control systems. We use a diamond tooth chainsaw (15" & 30") for cutting through concrete and rebar. Once cut, the waste piece is removed and hauled from the site.
We use our portablediamond blade saw for cutting concrete and asphalt with a remote power supply.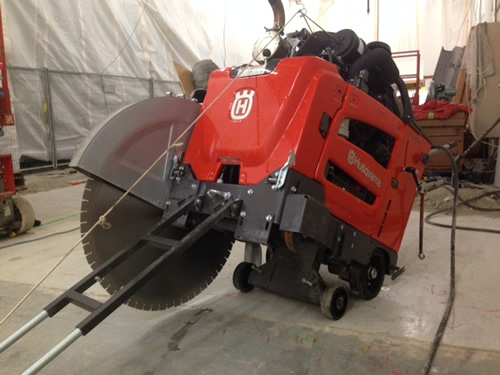 We offer Diamond Cutting in coring, drilling, hand sawing, and flat sawing.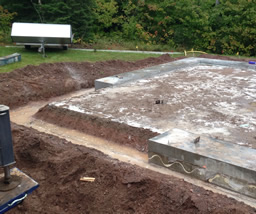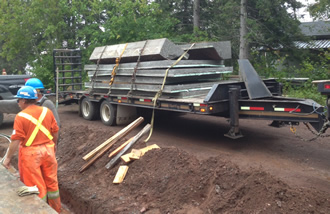 Cutting to remove concrete slab.
Here, we are using the chainsaw to cut out a basement window without over cutting corners. See our diamond teeth concrete cutting chainsaw.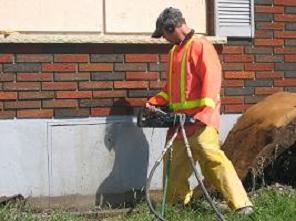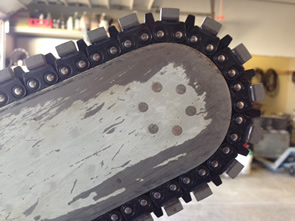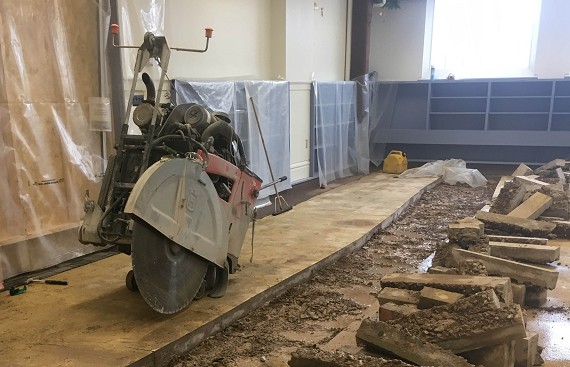 Using a flat saw to cut concrete.
We use the Diamond Cutting System because of the benefits offered to our customers and crew:

Dust free
Wet or dry cutting
One man operation
Cuts through metal
Precision cutting
No vibrations
Reduced noise compared to conventional methods



All Trades Contracting is a member of the Concrete Sawing and Drilling Association, the Construction Association of Thunder Bay, and the Thunder Bay Chamber of Commerce.