Concrete Planing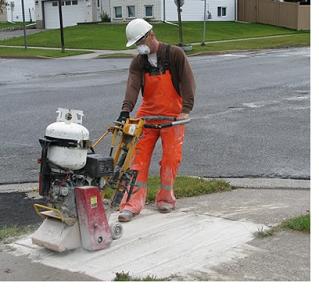 As part of our concrete repair services, we now offer concrete and asphalt planing. This unique diamond drum planer has the speed and power to remove irregularities in all types of surfaces. From badly spalled concrete to uneven surfaces, the All Trades Contracting planer can easily get the job done.
Our competent operator removes trip hazards in concrete sidewalks. The work is performed for the city of Thunder Bay in conjunction with operators pumping and jacking sidewalks. In some cases, jacking is not appropriate for removing the hazard, but planing will remove the edge satisfactorily.
In a past job, the planer was used in a basement to remove a 1-1/2" hump to correct a drainage problem. In another situation, the machine was used to remove 1/4" of spalled concrete over 4,000 sqare feet.
Other uses include paint line and coating removal, inlaying of traffic lines, as well as levelling of concrete and asphalt. By changing the planer head from diamond to carbide, we can also create different finishes from smooth to broom finish. We can also change the configuration of cutters to inlay grooves for safety requirements.
The machine can either be used indoors or out with a quick change from propane to electric power. If required, our dust collection system may be connected also.
Call us for more information and pricing.
This video shows our planer cutting grooves in the new bridge on the Thunder Bay Expressway. The grooves can be adjusted to a customers specific requirements.
This video shows our propane powered concrete planer removing the surface of a bad concrete pour. We used our 30" grinder to finish the work to the customer`s satisfaction.
| | |
| --- | --- |
| | |
| Correcting a water drainage problem at Thunder Bay Truck Centre. The planer was used to remove 3/4" of concrete to allow water to drain from floor. | The planer was used to remove 4,000 sqare feet of spalled concrete. We used our concrete grinder to achieve the desired finish for the customer. |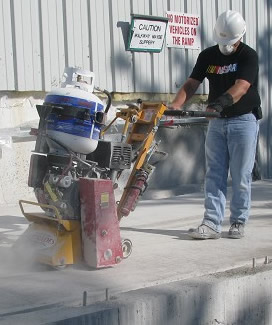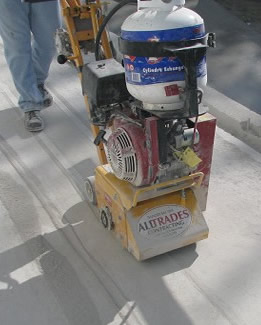 Planing uneven concrete.
| | |
| --- | --- |
| | |
| Planing ridge in asphalt on Highway 61. | To remove ridge to acceptable range. |
From setup to traffic control, diamond and carbide planing.
---



All Trades Contracting is a member of the Concrete Sawing and Drilling Association, the Construction Association of Thunder Bay, and the Thunder Bay Chamber of Commerce.