All Trades Contracting - Community
All Trades Contracting is a responsible, community-minded business that believes in giving back. We encourage our staff to get involved with community projects and we are a major supporter of youth and educational initiatives.
Listed below are some of the events and organizations that All Trades Contacting proudly supports:
Thunder Bay International Baseball Association World Championships
Thunder Bay Baseball Association - Baseball Central Redevelopment
Thunder Bay Minor Hockey Association
Elk's Hockey Association
North End Flames
The Husky Oil Women's Major League of Thunder Bay
Tony Villeneuve Auto Rally for the Northern Cancer Research Foundation
Confederation College Foundation
Children's Wish Foundation
Habitat for Humanity
Sencia Annual Bonspiel for Shelter House
Christmas Parade of Lights
If you're looking for support for your community initiative, contact us at info@alltradescontracting.ca.
All Trades Contracting at Children's Wish Golf Tournament
Left to Right: Blair, Rick, Steve, Reg & John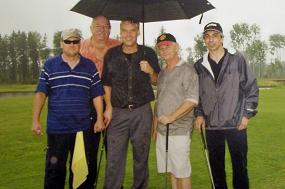 ---



All Trades Contracting is a member of the Concrete Sawing and Drilling Association, the Construction Association of Thunder Bay, and the Thunder Bay Chamber of Commerce.